This week has been interesting, to say the least. But let's start at the beginning.
Last week, after writing the first post, I felt like I was being dumb. Back then I was still sitting on a few $TSLA shares, worth about 6k. Together with the cash I had at the ready at my Interactive Brokers account, I was able to afford another call option of the same kind. 1700 strike, 20.01.2023 expiration date. And it didn't look like there would be any recovery soon, so I might just as well wait for the bottom and then get another option, instead of holding just a few shares. That's why I sold out of most $TSLA shares on Thursday evening, to have the cash at hand come next trading day.
On Friday
morning (remember, I'm at CET), $TSLA shares went up after declining in Thursday's after hours. I felt bummed, I was hoping for a bit more of a dip. But I was prepared to get one of those juicy options anyway, come market open.
Then the bell rang, and it was pretty brutal. The market sell-off continued and $TSLA was giving back the gains it produced during pre market hours in basically the first 15 minutes. So I waited. That waiting was excruciating. My original first love, the succulent $TSLA 1700 20.01.2023 call option I purchased for 85.80, was getting hammered. For the first time, I felt what it was like to see volatility in expensive options. Every dollar dropped in option premium equaled 100 dollar off of my portfolio. And it dropped down all the way to 60. My portfolio was deep red. I was nearly crying. How could this be. The stimulus was going to get passed. Inflation supposedly was just a ghost that weanie babies (thanks Kevin) saw and got spooked. So what was I to do?
Risk and reward
For the first time in my whole investment career, I actually started to feel confidence instead of panic. It's an opportunity, right? We had reached the lowest point of $TSLA shares since December 2nd, and I just couldn't see how it would go beyond that. Around 10:50 NYSE time, 10:50 CET, it was time to POUNCE! I got one for 66.38, bringing my average to 76 dollars. $TSLA was around 550 dollars then, and actually didn't drop much further, before it started a bit of a reversal run throughout the rest of the evening.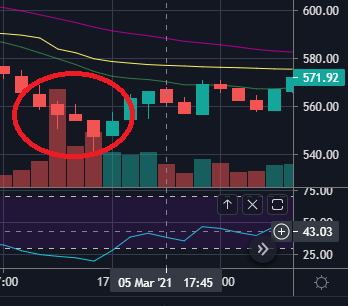 I felt awesome. By the end of the trading day, I was basically back to break even on the option position. Going from 3.5k in the dumps back to nearly flat on the day was great. I felt like the king of investments, Warren Buffet could learn a lot from me.
The weekend came, I watched a lot of YouTube of course. Quite some people were arguing for the dip to finally being over. Bond yields were easing off again (and also, why were they such a big factor in the first place? They were back to where they were before corona actually hit, and the economy and markets arguably were doing SPLENDIDLY back then). More positive energy, I felt great going into the next week.
On Monday
not a lot happened overall. The day started strong for $TSLA, in pre market trading it climbed above 600 dollar, but cooled off over the day, down to the same levels where I bought the second option. My portfolio went down, but I felt confident. It helped that the option premiums stayed slightly above the price that I paid for the second one, even with the stock going down to the same level. It felt like the unimpaired sell-off had come to a halt.
Then TUESDAY happened
HOLY SMOKES! Pre market was a sheer festival of green, all across the board. At market open, $TSLA had already gained 7.5%, and only went UP during the day, finishing at market close with a freakish 19% in gains and going higher even into the after hours, edging ever so close to the 700 dollar mark. All of my other stocks up anywhere between 5 and 30%. The portfolio was up by a whopping 9k. In JUST ONE BLOODY DAY! I had never before seen such a green day. Guess how smart I felt. Risk being rewarded BIG TIME!
On Wednesday
things started out great, $TSLA went up over 700, but it didn't last long. I panicked. I was dumb. I sold one of my options into the drop, at 108.80. Still, a more than 40% profit trade, given the average price, but the guilt and FOMO were kicking in HARD! Especially because a lot of the other stocks were cooling off, as well. It was to be expected. As Charly from Zip Trader is always so clear in saying: EVERY reaction is an overreaction. So a bit of a drop was to be expected, but I was a paper handed sissy and got scared. All of the confidence of last Friday forgotten.
And as things went, Wednesday did in fact cool off a bit more, but I was still stupid, also had a busy day at work, and didn't get back in. How dumb.
Thursday
came around and guess what, $TSLA gapped up during pre market trading. Then a little dip after market open, which I kind of successfully exploited to get back in. The spread was crazy. I mean, 6 dollars difference between bid and ask on something trading around 110 dollars is insane, in my opinion. I got in at 113.30 again, raising the average to 93.50. Could have been a bit more patient and gotten back in at 109, practically without a loss compared to the sell on Wednesday, but well, that's life, and I am betting on those options way longer than the next two weeks.
The rest of the day went great. From being up a lot, to then being up way less, because of the drop in $TSLA, I actually went to being up by 3.5k again. During the week prior, besides selling out of a lot of other positions besides $TSLA, I also took out about 6.7k in cash, to put on my bank account and keep as an emergency fund. I wasn't ready any more to literally risk all of my money in the markets, with only a bare minimum on my bank account. This market sell off has made me realize a lot of things, and one of them was that doing more risky stuff (if you can call a two year bet on Tesla outperforming the expectations again and again that) will probably feel much safer, when I've got some cash to actually do something with safe on my bank account. I can then not worry too much about the times, when my portfolio is down a lot, since that's not all the money I own.
Friday
So when today the markets seemed to be cooling off again and my portfolio was in the red for nearly 3k dollars, I didn't feel a lot of fear any more. This is fine. I know Tesla is shaping up to blow every last disbelievers mind. News came out that they are apparently building a 100MWh+ installation in Texas. If this get's confirmed, there'll be a shining example of just HOW much their technology and vision will impact everyday lives, and just how much Tesla will earn, while making the world a better place. And that's going to be right at the doorstep of all those Wallstreet critics. Not in some "backwater" country (e.g. the Megapack in South Australia is generating continued revenue while severely improving many people's lives), but right there in the US of A.
Where to now?
Confidence and conviction are key. That's become pretty damn obvious. I feel great about the future of my portfolio. With the cash taken out of the account, and the continued drops throughout last week, my portfolio's value was at just below 30k on Friday when trading stopped for the weekend. It is now back to 42.6k as of writing this post. I made back 13k in one week, with a lot less capital to do it with. Mainly thanks to the two call options. I know the road is going to be bumpy. The portfolio may just as well drop below that 30k mark over the next week, or the weeks after. I try to steel myself for that, but I think it's unlikely to happen. There is no real threat of inflation, and even if so, I believe that people will see that growth stocks are the best way to make your wealth grow in times where your money, left on its own, loses value. Also, Tesla will continue to dominate. A few new price targets have emerged over the past week, and ARK invest is poised to deliver THEIR new analyses on Tesla during next week, or the one after that. Cathy Wood has said on several interviews, that their conviction in Tesla has only grown more over the past year. They see them becoming THE company to solve autonomous driving and that market alone may just as well double their profits.
So yea, I'm confident. But let's see how next week goes. I'll check back in by then, in the meantime maybe put up one or more other, more random posts.